July 10, 2018 – Vancouver, B.C. – Barksdale Capital Corp. (TSX-V: BRO) (OTCQB: BRKCF) ("Barksdale" or the "Company") is pleased to announce the start of its 2018 exploration program at its Sunnyside and Four Metals projects, located in Santa Cruz County, Arizona. Barksdale has options to earn up to 100% of the Four Metals property and 67.5% at Sunnyside. The Sunnyside claim block occurs immediately adjacent to Arizona Mining Inc.'s (TSX: AZ) ("AZ" or "Arizona Mining") Taylor-Hermosa project, which has recently (July 2018) received a formal acquisition offer from South32 Inc. (ASX: S32), consisting of a cash bid of approximately C$2.1 billion1.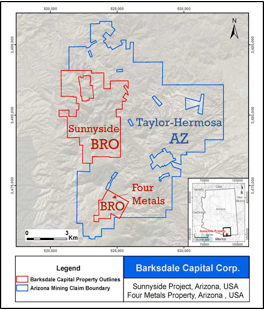 Rick Trotman, President and CEO of Barksdale commented: "The Taylor zinc-lead-silver-copper deposit is a world-class discovery and the C$2.1 billion offer by South32 is not only a validation of the Taylor discovery, but speaks to the greater district-scale potential that the Barksdale team identified as an opportunity last year which led to the option agreement at Sunnyside. From historical drilling completed on the property by ASARCO in the 1970's, Barksdale believes that the mineralizing system at Sunnyside is the source of the Taylor deposit. Our exploration team is currently in the field working to identify subtle surface expressions of buried mineralization that can be used as a targeting tool for our future drilling programs"
The 2018 exploration objectives at Sunnyside are threefold: 1) further define extensions of the Taylor zinc-lead-silver-copper discovery on Barksdale ground, 2) continue exploration activities across the entire Sunnyside and Four Metals claim blocks with the purpose of building a prioritized inventory of all porphyry copper, breccia pipe, skarn, vein and manto targets, and 3) continue to advance strategic property acquisitions opportunities within the greater district.
Building an inventory of drill targets will require Barksdale's exploration team, under the mentorship of Dr. Peter Megaw, to complete systematic geologic mapping over the entire property, relog all existing core holes from the historic ASARCO drilling programs, and undertake geophysical surveys, including audio magetonotellurics ("AMT"). The goal of these integrated activities is to build a 3-D geology model with the purpose of defining the subsurface geometries of the ore fluid pathways that may indicate potential extensions of known mineralization and new discoveries at depth. Additional geophysical surveys options are currently being reviewed and will largely depend on results from characterization samples that are being analyzed by our geophysical consultants.
The 2018 field program will generate additional data needed to build and refine drill targets across the Sunnyside and Four Metals properties. As the results from these programs become available, Barksdale investors will be updated regularly by way of news releases as well as on the corporate website: www.BARKSDALECAPITAL.com.
Lewis Teal, Barksdale's project manager and a "qualified person" as defined by NI 43-101, Standards of Disclosure for Mineral Projects is responsible for approving the scientific and technical information regarding Four Metals contained in this news release.
ABOUT BARKSDALE CAPITAL CORP. – Barksdale Capital Corp. is focused on the acquisition and exploration of highly prospective precious and base metal projects in the United States.
Neither the TSX Venture Exchange nor its Regulation Services Provider (as that term is defined in the policies of the TSX Venture Exchange) accepts responsibility for the adequacy or accuracy of this news release.
On behalf of the Board of Directors of Barksdale Capital Corp.,
"Rick Trotman"
Rick Trotman
President and Chief Executive Officer
FOR FURTHER INFORMATION PLEASE CONTACT:
Rick Trotman, President and Chief Executive Officer
Tel: 720-447-7705
Email: This email address is being protected from spambots. You need JavaScript enabled to view it.

CAUTIONARY STATEMENT REGARDING FORWARD-LOOKING INFORMATION: This news release includes certain "forward-looking information" under applicable Canadian securities legislation including, but not limited to, the Company's exploration plans for Sunnyside and Four Metals and that the mineralizing system at Sunnyside is the source of the Taylor deposit. In addition, the proximity of Four Metals and the Company's Sunnyside property to Arizona Mining's Taylor deposit is not necessarily indicative of the mineralization within Four Metals or Sunnyside. Forward-looking information is necessarily based upon several estimates and assumptions that, while considered reasonable, are subject to known and unknown risks, uncertainties, and other factors which may cause the actual results and future events to differ materially from those expressed or implied by such forward-looking information. Accordingly, readers should not place undue reliance on forward-looking information. The Company disclaims any intention or obligation to update or revise any forward-looking information, whether as a result of new information, future events or otherwise, except as required by law.